Windows 10 comes with an easy to use interface and better security features than its predecessors. One of the new features added in it is the "Recently Opened Files" feature that displays the user's recently opened files in the File Explorer. However, this feature generates some privacy concerns if more than one person uses the same Computer. Therefore, in this article, we will guide you with the methods to disable this feature.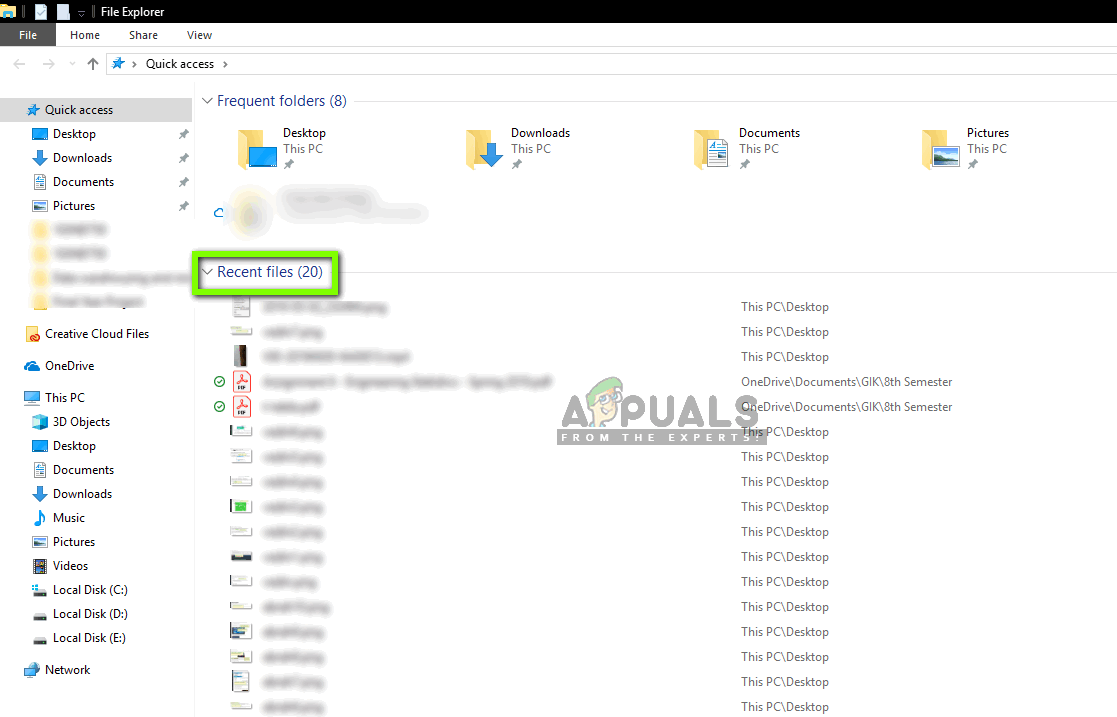 How to Disable Recent Files in Windows 10?
The "Recent Files" feature might be a privacy concern for some people and here we will teach you how to disable it permanently. In order to disable it, you can apply three methods that are listed below.
Method 1: Clear Recent Files Manually
Information about the recently opened files is stored in the form of cached data. You can locate this data and manually delete it from time to time. In order to do that:
Press the "Windows" + "R" key simultaneously to open the "Run" Prompt.


Opening Run Prompt

 Copy the following address into it

%AppData%\Microsoft\Windows\Recent

Typing the Address in the Run prompt

Click on "OK", press "Ctrl" + "A" and then press "Shift" + "Delete" simultaneously.


Pressing "Ctrl" + "A" to select all the files

Click on "Yes" in the prompt.
All the "Recent Files" displayed in the File Explorer will now be gone.
Method 2: Disabling through Registry
If you are using the "Pro" version of Windows 10 you have access to edit the Registry functions. The Registry function contains the option to disable all the default services of Windows 10. In this step, we will be disabling the "Recent Files" service permanently. For that:
Press "Windows" + "R" on your keyboard to open the "Run" Prompt.


Opening Run Prompt

Type in the following command in it and click on "OK"

gpedit.msc

Typing "gpedit.msc" in the Run prompt

Click on the "User Configuration" option and then on the "Administrative Templates" one.


Clicking on "User Configuration" and then on "Administrative Templates".

Select the "Start menu and Taskbar" option and in the right pane select the "Don't keep the history of recently opened documents" option.


Selecting "Start Menu and Taskbar".

Double click on it and check the "Enabled" option.


Selecting "Enabled"

Click on "Apply" and then on "OK".
Method 3: Disabling through Control Panel
Another way to disable the recent files panel is through the Control Panel. In order to disable them from the Control Panel:
Click on the "Start Menu" button and select the "Settings" icon.


Clicking on the start menu and selecting the settings icon

Click on "Personalization" and then on "Start" in the left pane.


Clicking on "Personalization"

Scroll to the bottom and click on the "Show recently opened items in Jump Lists on the Start or the Taskbar" toggle to turn it off.


Clicking on the toggle to turn it off
Source: https://appuals.com/